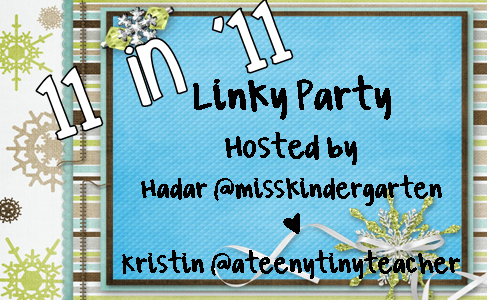 I'm linking up with Hadar and Kristin (two of my favorite teacher-bloggers). for the 11 in '11 linky party.
11. Favorite movie you watched: Probably Breaking Dawn, I <3 me some sparkely vampires.
10. Favorite TV series: Glee or Criminal Minds (2 complete opposites, I know!)
9. Favorite restaurant: Lahn Pad Thai, a tiny hole-in-the-wall place that makes the best Pad Thai!
8. Favorite new thing you tried: My tattoo, it was my 30th birthday present to myself.
7. Favorite gift you got: A tie between my Erin Condren planner and my new Danskos.
6. Favorite thing you pinned: I've been pinning lot's of wedding shower ideas lately that I <3 (my little brother is getting married in august)
5. Favorite blog post: I'm not sure, I don't think I've been blogging enough to have one.
4. Best accomplishment: Creating a classroom community and setting up routines and procedures with my kiddos this year. Last year (2010-2011) was a tough school year and none of those things really "gelled" with my class. This year is 10 times better, in fact I had the best observation I've ever had this past November!
My BFF's Kiddo C.G. with her brand-new backpack
2. Favorite memory: Getting to spend a week in Kotzebue (a village on the Bering Sea), renovating the Boys and Girls Club and hanging out with the kiddos up there.
1. Goal for 2012: I have 3:
1.To be more organized within my work/personal life and to have more of a balance between the two (hopefully my Erin Condren planner will help)
2. Spend time in my Bible everyday.
3. Do a better job teaching Math. I am very confident in my ability to teach Reading, but I know that I need to work on my Math lessons.